Application Tools

SelectCoder Now with

Payer

content!
SelectCoder, now with 24 months of historical content searchable by date of service, streamlines all professional and facility coding into a single, consistent online code validation and evaluation tool. Access all content and exclusive efficiency-boosting features that get you to the correct answer, 2.5 times faster than any other tool.
Learn More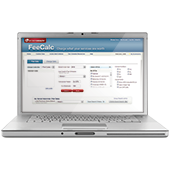 FeeCalc is a user-friendly, web-based tool that's always updated with the latest Medicare fees and commercial charge data customized to every location where your practice operates. You'll create Excel and PDF-readable custom fee schedules for your specific localities, with fees based on Medicare or carved out separately, in minutes. Plus, get the best contract possible by knowing the exact going rates for every CPT® and HCPCS code in your ZIP area.
Learn More